Merritt Island National Wildlife Refuge
Merritt Island National Wildlife Refuge began with the development of the US Space Program. In 1962, NASA acquired 140,000 acres of land adjacent to the existing USAF launch facility on Cape Canaveral and established the John F. Kennedy Space Center.
NASA built a launch complex and support facilities, but most of the land was left in its native condition. Some of the land had been improved by residents who had been bought out by the government, and a few were given permission to stay for a time. Some orange groves were allowed to remain and were tended and harvested (until recently) by the previous owners.
In 1963 the U.S. Fish and Wildlife Service signed an agreement to establish the refuge and in 1975 a second agreement established Canaveral National Seashore.
Today, the Department of Interior manages most of the unused portions of the Kennedy Space Center as a National Wildlife Refuge and National Seashore while the majority of the improved land has returned to nature.
The remaining orange groves- or as the government calls it, "highly disturbed land" have been used for the NASA Visitors Center, the Blue Origin manufacturing facility, and Exploration Park which is a Commercial Space office complex.
Titusville
Titusville was founded in 1867 by Col. Henry Theodore Titus, CSA in an area then known as Sand Point. Col. Titus and his wife Mary built the areas first hotel and named it "The Titus House". They laid out the streets, donated land for many of the town's buildings, and established a mule-drawn wagon transportation system linking the town to the St. John's River.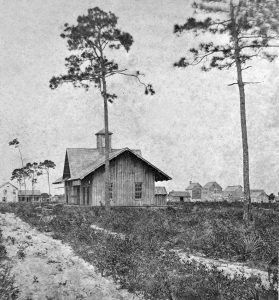 Like any historic Florida city, Titusville has been rocked by the economic tides that have swept Florida for the last 150 years. The boom and bust of the 1920s and 1930s, the war years, and the space program's ups and downs- sometimes it seems like it's been feast or famine as far as you can see.
It has taken wisdom, determination and a little bit of luck to survive, but a lot of hard work recently has revived Historic Downtown Titusville.
We hope you'll take a little time to visit and remember some of the past, while you consider the excitement of the new Space Coast and experience some great food and shops.
We also encourage you to see the Titusville Historic Walking Tour where you can learn more about the history of the area.
Titusville today looks forward to a bright exciting future. New to our area are space ventures  SpaceX, Blue Origin, RUAG Space and OneWeb (a joint venture between OneWeb and Airbus Group). These companies are pioneering Commercial Space with bold visions and amazing accomplishments.