Ride in our air conditioned executive coach;  Visit national parks;  Enjoy sightseeing, short hikes and educational interactions;  Use maps and identification charts provided;  Stop at park visitor center, museum and store;  Picnic lunch, snacks and water provided.
NO SWEAT TOUR, WE TAKE YOU TO THE WILDLIFE
Merritt Island Wildlife Refuge and Canaveral National Seashore are located on a 43 mile long barrier island that is habitat for over 500 species of wildlife, including 21 listed as threatened and endangered species.  The varied ecosystems from fresh water marsh to saltwater marsh, hardwood hammock to pineland flatlands, the Indian River and pristine beach provides an opportunity to see the comprehensive a diverse wildlife habitats.
One thing we have learned is that nature changes every day. The good news is it doesn't matter what the weather, temperature or season, the refuge has something to offer.  Experiencing the refuge with the natural residents requires adapting to their schedule. The alarm clock for wildlife is the sun.  They get active early, hunting and foraging before the heat of the day sends them napping.
It is amazing the differences each day can bring.  At times the bird's are so plentiful it's a challenge to see them all.  Other times they are scattered and you have more time to watch as they forage, hunt or play.  The alligator's behavior changes with the temperature, you see them warming in the sun more often in the winter and in the summer their snout and eyes hovering at the water's surface. Manatee are active and visible almost every day in the summer.  In the winter they search for warmer waters but the dolphins use the river year round for playtime and mealtimes.
Expect No Sweat Guarantee:
You will experience a variety of wildlife habitats during your tour.
We handle everything, so it's stress-free and comfortable.
We take you to the best stops (to ensure you see what you hoped for).
Each tour is unique to you and your group.
We provide binoculars, snacks, water, and mosquito repellent
Sit back relax and get comfortable in our Executive Coach
6 Hour tour, Lunch of Sandwich, chips and drink provided ….. more info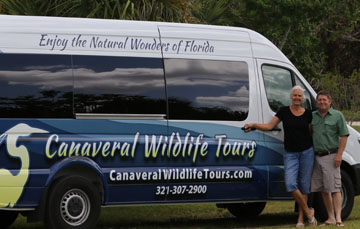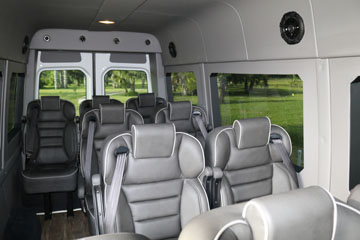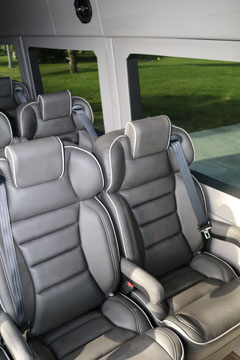 6 Hour tour with picnic lunch

8:30am pickup approximately 2:30pm drop-off
Travel time to and from refuge 45 minutes
2 hours on Black Point Drive
Manatee observation area drive time and viewing 40 minutes
45 minutes at the refuge Visitor Center including picnic lunch
Playalinda beach drive time and viewing 40 minutes
Stops
Port Canaveral Pickup and Drop off location
Merritt Island Wildlife Refuge; Black Point Drive
Haulover Canal, Manatee Habitat
Canaveral National Seashore, Playalinda Beach
Merritt Island Wildlife Refuge Visitor Center
4 Hour Tour

8:00am or 1:30pm pickup
Travel time to and from refuge 45 minutes
2 hours on Black Point Drive
30 minutes at the refuge Visitor Center
Stops
Port Canaveral Pickup and Drop off location
Merritt Island Wildlife Refuge; Black Point Drive
Merritt Island Wildlife Refuge Visitor Center
Need Special Pickup Arrangements? Contact Us